Exchange of experiences between industries to promote diversity
In the conviction that diversity in the workplace leads to better results for all companies and contributes to developing society in general, Tecpetrol and NCR, a leading technology company, shared their best practices in this area.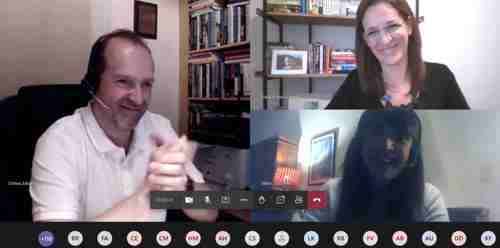 Every day more and more studies are coming out which show that companies with greater gender diversity tend to perform better and be more innovative. One of the leading studies published recently shows that companies where women occupy at least 30% of leadership roles are 1.4 times more likely to achieve sustained and profitable growth, 1.7 times more likely to have greater leadership capacity, and are 1.5 times more likely to introduce different and innovative approaches.[1] However, when it comes to science, technology, engineering and mathematics (STEM), women are still under-represented, both in college and in the job market. The latest publication which looks at gender equality produced by international consultants McKinsey in conjunction with LeanIn.org, shows that women only represent 35% of the workforce at entry levels and 16% in executive positions in technology companies, and 34% of the workforce at entry-level and 13% at C levels in the hydrocarbons industry.[2] Clearly, these sectors are losing a critical mass of potential employees who offer the ability to enrich teams with different skills and perspectives.
Aware that they both belong to male-dominated industries and the challenges that this entails, Tecpetrol joined up with NCR, a top international firm creating software, hardware and technological services. Leaders from both organizations sat down together to exchange experiences about the initiatives they are driving in terms of diversity. "We have created WIN Latam, an NCR community made up of seven Latin American countries, in order to develop a plural and inclusive environment supporting the growth and development of women's careers. We contacted María Laura García, Tecpetrol's Talent and Communication manager, to tell us about the path they have traveled and their experiences of developing the process and defining priorities for action. Collaboration between companies is essential to foster greater co-responsibility between organizations and their leaders as they seek to sustain diversity," explains Gabriela Marín, HR Manager for Argentina, Chile & Peru at NCR and the leader of WIN Latam.
"It's vital to continually carry out cross-industry benchmarking. If companies from different sectors have more diversity, the business world works better as a whole. When a company comes to us to ask about best practices, I don't hesitate: I want to be as helpful as possible because it directly affects other people's lives. And it's a win-win situation, as we've also been able to learn about interesting initiatives being undertaken by NCR around the world, that serve as a guide to help us promote Tecpetrol's +d program," adds María Laura García.
After the meetings between leaders, Tecpetrol launched its cycle of Win Talks. This is a space for raising awareness, prompting reflection and sharing, which was set up to find out more about the experience of companies from different sectors that can act as a source of inspiration for NCR's efforts in this area.
Roger Bigio, RVP Latam and Managing Director Chile, welcomed over 170 participants to the webinar, commenting that, "We are used to doing things in a particular way, but now we want to start doing these differently. In this space, we are seeking ideas to help us make the impossible possible, and take concrete steps to be more inclusive. I've been lucky enough to have first-hand experience of the work that Tecpetrol has been doing over the last few months and it's been highly motivating. I hope you also enjoy this session: let's learn some more so we can create an increasingly diverse work environment."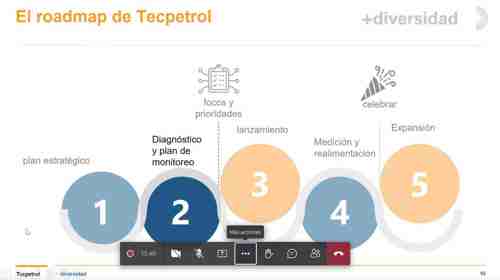 Tecpetrol's presentation, entitled The future brings +diversity, explored the roadmap followed by the company to ensure that plurality finds a place on its agenda, and is supported by the right kind of strategic plan. María Laura García also spoke about the reasons that prompted Tecpetrol to focus on this issue. She reviewed the different diagnostic instances such as focus groups, surveys and personal interviews, and drew attention to the importance of carrying out active listening before defining specific actions. Thanks to this survey stage, the company was able to delineate short, medium and long-term priorities and launch its +d program to ensure gender, generational and cultural diversity among its work teams. The program developed and set in motion a great many initiatives, such as the Lean In Together Circles, maternity coaching, unconscious bias workshops, adherence to the UN Women principles, the involvement of the entire steering committee and setting up a Governance +d group. Tecpetrol has also deployed a range of measurement and feedback methods to measure the impact of all these efforts. "I'm delighted to see that NCR leaders are genuinely taking up the issue. This path requires effort and energy for things to happen. I hope you can count on the support of your leaders and persist in your efforts to bring about a true transformation," said María Laura at the end of the webinar.
During the Q&A after the presentation, the participants asked several questions, keen to find out more about the challenges that Tecpetrol had had to face when tackling this area. They were also grateful for the opportunity to find out more about activities in another industry and were vocal in their appreciation of the exchange and its contribution to enriching their corporate culture. They concluded that diversity can only be built by being patient and persisting, through actions that are consistent with the company's culture, and that transformation is possible beyond the contexts and industry to which the organization belongs.
"We cannot deny our teams the chance to enrich themselves with diversity and all that it brings, the myriad ways of seeing, understanding and sharing points of view. This wealth is invaluable, yet the risk of getting it wrong is enormous for a business. This process starts with the responsibilities assumed by the team leaders, and continues with all NCR employees. We want to learn from best practices and take action. This is the starting point of our journey, where we step up and take action," said Eduardo Ochoa, Services Vice-President Latam and Managing Director Argentina of NCR, as he closed the meeting.
[1] Diversity & Inclusion Report, DDIWorld.com
[2] Women in the Workplace 2020, McKinsey & Company and LeanIn.Org