Raising awareness of breast cancer
In Argentina, some 19,000 women are diagnosed with breast cancer every year. Emiliana Ratti, from Human Resources (HR) at Tecpetrol in Neuquen, is one of them. She tells us about her journey and shares her advice to help other women.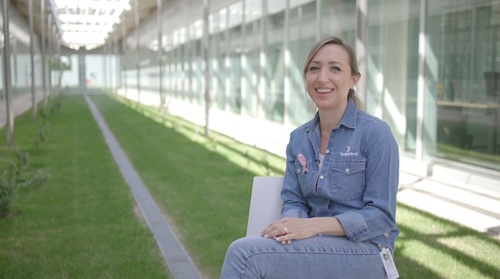 Emiliana Ratti is 38 years old. She joined Tecpetrol in 2017 and went to work in HR for the Neuquen basin and Vaca Muerta Region. However, eight years ago she was diagnosed with breast cancer and is still receiving treatment today. As part of breast cancer prevention month, she wanted to participate in a video to increase awareness of this disease with the emphasis on early detection as one of the keys to better recovery.
In Argentina, of all the women who have breast cancer, only 10% have this due to hereditary causes. In other words, 90% do not know they can develop it. This is the reason why self-examination is so important, as many lives can be saved. "My recommendation is for you to do the self-examination, which doesn't take more than ten minutes, once a month at home. More than anything, we're the ones who know our body best and can spot when there's something strange: you just have to pay attention to what your body's telling you," she says.
In fact, thanks to her own breast self-exam at age 30, Emiliana realized that something was wrong. This is how she tells it: "One day after taking a bath, I put on some body lotion and I felt a lump, like a sort of pimple, in one breast. As it was a bit odd, a few days later I called my gynecologist who did a breast ultrasound, a mammogram, and eventually a punch biopsy." It was breast cancer—and she'd discovered the tumor almost without realizing it.
Receiving the diagnosis was a crucial moment in the process. Emiliana had no history of breast cancer in her family and didn't know much about the subject. Her first reaction to being told was one of anger, but over time she shifted her perspective and brought her resilience to the fore. "I have to take this as a learning experience, so I tried to lead my life as normally as possible, and that gave me the energy I needed to follow through the process in the best way," she recalls from that time.
During the process of diagnosis, treatment, and recovery, she received the support and encouragement of her partner, family, and friends. "That was really the most important thing for me because there's the whole physical thing where the doctors are in charge, and then there's the emotional issue where you need all the support you can get from your family and friends. It's so important to feel 100% supported and accompanied all the way through," she says.
Breast cancer, when detected early, can be cured in most cases. In addition to monthly self-examination, women aged between twenty and forty without any risk conditions should have an annual gynecological examination and, after forty, an annual mammogram.
During her recovery, Emiliana learned something else, in addition to listening to her body and the signs it gives, simply trying to enjoy each day as it comes, not making a big deal out of most things, and telling her closest family and friends how much she loves them. 
What are the risk factors?
Not modifiable:
Being a woman
Age: the older you are, the greater the risk;
A family history of cancer;
Having dense breasts (significant breast density which makes it harder to detect any abnormalities on a mammogram);
Beginning menstruation at an early age;
Advanced age at first birth or never having had any children.
Modifiable:
Overweight;
Lack of physical exercise;
Alcohol consumption
How to do the self-exam in five steps
Stand in front of the mirror, raise your arms and observe both breasts.
Pay attention to possible alterations such as changes in shape and size, lumps, or unusual wrinkles in the skin.
Press gently with your fingertips.
Make circular movements over the surface of the breast, to determine whether there any lumps or painful points under pressure.
Examine your armpit with your fingertips.
Use circular movements to try and identify any masses, thickening or bulging under the skin.
Gently squeeze the nipple between your fingers
Fluid or blood discharge can also be a symptom of a breast tumor.
REPEAT THE LAST THREE STEPS ON THE OTHER BREAST.
5) Lie down with a pillow under your shoulder and your elbow raised
Examine both the breast and the armpit with the opposite arm in a circular motion.
Source: WHO (World Health Organization)