Ambassadors Program: we can all have an influence on our environment
The Ambassadors initiative is proving to be very popular at Tecpetrol. So far, 39 employees from different areas have immersed themselves in the world of LinkedIn to upgrade their profiles, taking advantage of all the tools offered by this professional network to become—why not? —influencers.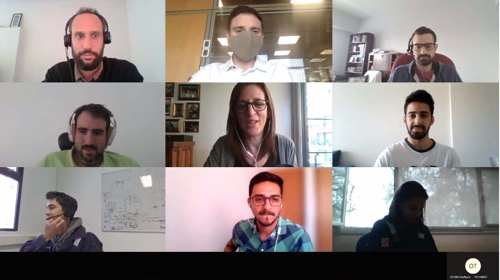 The Tecpetrol Ambassadors Program is a global initiative that seeks to reinforce the digital positioning of the company's leaders regarding strategic issues and, at the same time, give corporate values, products, and services greater visibility.
The program launched its first course in March when four training sessions were held for 39 company ambassadors.
"We're starting from the premise that we can all be digital leaders or influencers. You don't need to be famous or have millions of followers to influence people," explains Eduardo Cabrera, from the Communications team. According to the social media management platform SproutSocial, an influencer is someone in your niche or industry with an influence over your target audience. They tend to be people with specialized knowledge about a given topic, an authority on the subject. This means that their knowledge, experience, skills and credibility are their greatest asset.
One of the initial instances of the program was to identify the Tecpetrol employees who, due to their knowledge or authority, are benchmarks both within the company and in the energy industry as a whole.
"In this first edition we invited our 39 ambassadors to a training course where we picked apart social networks—especially LinkedIn as it is the key network in the professional world—and looked at their impact on people's lives, and analyzed the potential of influence and its effects in the digital environment," explains Eduardo.
Basic tools were shared, such as how to select your profile photo, and using advanced configurations to increase the reach of publications and profile views.
Stefania Samokec from Tecpetrol's Human Resources department took part in this first edition. "It was really good. They showed us how LinkedIn works through practical examples from real life, and we learned all kinds of things I never knew. We looked at tips to improve our profiles and make the content we share better quality." She added that "With only a few small adjustments, we can add a lot of value to what we publish."
Rodrigo Álvarez, from the Business and Planning area, said: "I found the training really interesting, and different. We all use LinkedIn, but at least in my case, I was never particularly clear about all the things you could do on it. The Ambassadors initiative helps you dig a little deeper into the world of this social network and gives you tools to enhance your personal and professional profile, while at the same time highlighting the visibility of the company. So it's a win-win."
"Belonging, relating, being part of" are some of the words that Daniel Perfumo, Warehouse Supervisor, mentions as he discusses his response to the program. "There's no doubt that the experience that the Techint Organization offers us as part of the Ambassadors program fosters a greater sense of belonging, strengthening the tasks we do, as well as our know-how. It also helps us to project challenges and responsibilities to ensure that #energy is part of our everyday lives." 
For Matías Blanco, from Systems, "it's very motivating to see how the company encourages us to improve our profile and our activity on LinkedIn, as its scope allows us to direct our professional development, share information and news and even prompt and get involved in debates. I was at the first training session where we discussed topics such as the publication of relevant content related to our experience, and company and sectoral news. I think it's very interesting to develop your own personal brand and, at the same time, collaborate with Tecpetrol's corporate image."
In the next few days, there will be a new edition of the Tecpetrol Ambassadors Program seeking out new talents, as we can all improve our digital presence and positively influence our environment. There are no limits to personal and professional growth.